The Vermont Children's Trust Foundation is proud to support The Mentor Connector.
The Mentor Connector's aim is to create a community where all youth and their families are empowered to succeed. As Rutland County's youth and family mentoring organization, we serve over 200 youth and families each year, with one-on-one mentoring, family mentoring, and community prevention programming.
From The Mentor Connector: 
The unprecedented Summer of 2020 brought challenges and innovative projects to the Rutland region. The COVID pandemic disconnected families from their support systems, friends, and community. Youth were stuck at home, many in uncertain circumstances. Just as the summer approached, social distancing rules kept most summer camps to ½ capacity and many decided not to open their doors. Without access to camps, social isolation pushed youth toward becoming one of the most depressed generations in history.
But, a handful of innovators devised a solution. If youth can't go to camp, we can bring camp to the youth. Across Rutland County, over 100 volunteers, organizations, groups, and community members joined together to create and distribute 10,000 FREE youth activity boxes to youth across Southwestern Vermont. The "Out-of-the BOX" program distributed 2,000 boxes every other week filled with educational and life-skill activities for youth to do on their own, with their family, or through Zoom classes each week. Each box contained 4-6 hands-on activities, so youth will find plenty to do. The targeted age group was 8-13, yet all activities engaged younger and older kids alike.
The project's original design was a small-scale community response to the COVID-19 pandemic, yet over 900 families signed up in under 24 hours, meeting capacity within two days! Due to additional demand, the group created "virtual boxes" for youth and families to engage in the same activities and zoom classes in a bring-your-own-resources style. Over 100 volunteers gave 1,840 hours to design, create, and distribute these boxes. 40 organizations provided $68,947 in funding and donations to purchase, pack, and distribute: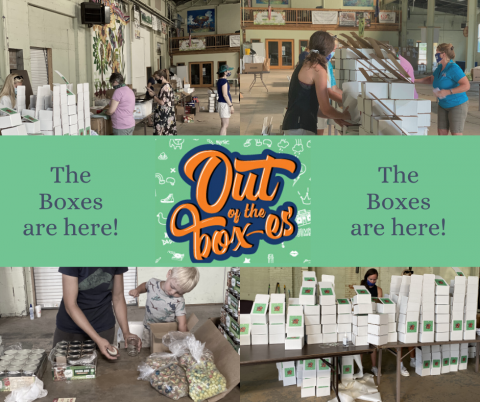 6,000 rolls of duct tape,
28,000 sugar packets,
4,000 stickers,
2,000 slap bracelets,
2,000 airplanes,
and over 9,000 marbles.
Directly resulting in over $138,750 of community programming (1:3), increasing resident's knowledge of and connection to community programs, supporting youth throughout the summer, and providing activities for parents to engage with their children. We provided 34,6875 hours of prevention-based and educational programming to Vermont youth that  increased life skills, enhanced creativity, and developed a connection with nature.
Learn more about The Mentor Connector at www.mentorconnector.com.