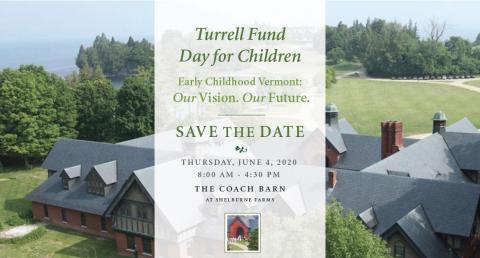 We're counting on you to be with us at the 25th Anniversary of Turrell Fund Day for Children.
For the past decade, Turrell Fund has invested significantly in two major initiatives in Vermont - Let's Grow Kids and the Vermont Early Childhood Advocacy Alliance - with the goal of improving the lives of Vermont's youngest children across the full spectrum of issues: health, safety, food security, economic security, and early care and education.
As partners in our work, we're turning the morning session of Turrell Fund Day over to you… the audience.
First, Aly Richards of Let's Grow Kids and Matt Levin of the Alliance will describe the impact and aspirations for their work to date, and share their vision for where these initiatives will be in five years.
Next we'll turn to you… to get your reactions to the strategy, and to hear how you and your organization can help us get to the finish line in 2025.
After lunch, you may choose to participate in one of four compelling seminars, three of which are eligible for professional development credit. 
As usual, we will close out the Day in convivial fashion with a reception on the lawn—weather permitting—so we may enjoy the gorgeous westerly views of the Lake and Adirondacks.
Please put this day on your calendar now, and look for a second email in a couple of weeks with full details and a link to register. 
I think this will be our most dynamic event yet … but only if you are there!  I look forward to being with you at Shelburne Farms.
Curt Fields, President & CEO